Bondit Plaster Bond+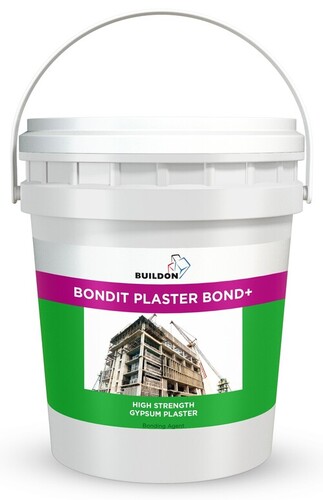 Bondit Plaster Bond+
Product Description
BONDIT PLASTER BOND+
BUILDON BONDIT PLASTER BOND + is high-performance bonding agent for gypsum and sand cement plaster on concrete blocks/rcc surfaces. Further it has waterproofing properties and hence it prevents leakages from the cracks in the plaster.
BONDIT PLASTER BOND+ is a plaster Bonder that is used to adhere fresh plaster to any interior surface that is structurally sound. When it is dry, it produces a layer that moistens when plaster is poured, resulting in a solid as well as a long-lasting bonding. In addition to this, BONDIT PLASTER BOND+ also allows for high performance bonding of one-coat finish plaster or two and three coat work to walls, beams, concrete ceilings, columns and other solid surface structures.
Advantage
Ready to apply single coat paint.
Very strong mechanical cum chemical bond is created.
Green colour of BONDIT gives it good visibility.
No hacking required on concrete surface. Hence prevention of microcracking in concrete & saving of labour.
Coverage is about 45 sft per kg.
Bonding strength is more than 4.5kgs/sft.
PH value is 8.5
It is an elastomeric material & hence can withstand movements in the structure without cracking.
Specification
| | |
| --- | --- |
| Chemical Composition | Modified Hybrid System |
| Film characteristics | Green granular flexible |
| Physical Appearance | Green viscous paint |
| Handling & Storage | Protect from frost. Containers once opened should be shut tightly to prevent contamination . Stocks should be used on a first in, first out basis. |
| Solid Contents | More than 52.50% |
| Packing | 10kgs plastic buckets. |
| Viscosity | 2500 cps Max. |
| PH Value | 8.5 |
| Butt joint strength | More than 4500gm/scm |

Application Procedure::
Mix the contents before use.
BUILDON Bondit-Plaster bond+ is used for high strength bonding of Gypsum Plaster/Cement plaster to concrete blocks RCC. No hacking is required
Apply gypsum plaster after 24 hours or after the material has dried based on environmental conditions.
Precautions
If the material goes in the eyes wash with water till burning stops or immediately visit doctor